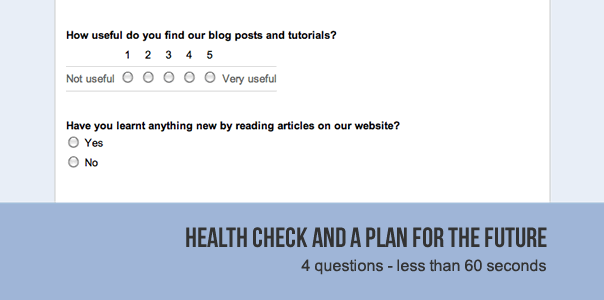 I've been writing about SEO on Fortheloveofseo.com for a little over 6 months now. That means it's time for a health check of the content, and to find out if you're getting everything you're looking for here.
Help me write information that you'll love, by answering
this super short survey
(it's completely anonymous, and it's only 4 questions).
The journey so far
I started this blog with technical SEO in mind, but the theme changed based on feedback from both readers and customers. Instead, the blog posts became focused on the basics of SEO. This is a quick snapshot of what's happened in the first 6 months here:
Phase 1: technical SEO for the geeks
Beside publishing the technical SEO checklist, the focus was easy-to-understand tutorials like these:
Phase 2: basic SEO for beginners
Being asked to write more about basic SEO was surprising, as I really thought there was enough content out there about it. After publishing a few posts, both here and on other sites, I had enough feedback to figure out what was popular (and not). This helped me realize what type of information and writing style many SEO beginners are missing, and that's where we are today:
Phase 3: You decide
Two very popular topics I've been asked to write about are email marketing and social media. If you think that's a good idea, let us know in the survey below. If you want to see more about an existing topic, let us know. It's an open questions, and I have an open mind, so share your thoughts.
I will share my conclusions and future plans when I've received enough answers to see a trend.
Do you think we're on the right track? I'd love to hear from you in the comments below.